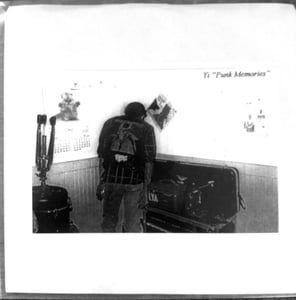 $

6.00
3 song 7", white sleeves, black vinyl
1st press: 99 copies SOLD OUT
PLEASE NOTE: this 2nd press is available for order but won't ship until NOVEMBER 2013
Terminal Boredom:
"Yi "Punk Memories" 7"
After slapping people sideways with last years "Host Body" sniggle (and their gonzo live shows) it was like a holiday having this handed to me. "Got A Stone" is the most straightforward punker on here, bordering on ugly pop turf. Aggressive stuttering and a Ginn overdrive, it lies comfortably in the puddle next to tracks on that prior platter. "Just Quit Punk" is the true damage. A crash & bang rhythm section that fights against its own catchiness at every turn. Jagged and loudly overblown guit-fit leads the way in and out of tune, threatening severe needle damage. Jackson (lead mangler and shouts) spreads it around, threshing picks violently until the hardcore breakdown arrives - does a Jell-O© shot or two - then returns to the party via blackout rage, totally disheveled. Will they make it to the end of the side? Will anyone survive? Will these stains wash out of my skivvies?? So many questions go unanswered. The B-side time expander known as "Junk Memories" really plays up the bands weird skillz and ought to land 'em a recording contract on Pluto. Things start off slam bang in the middle of a circle pit before again nose-diving into a chaotic indie schmear of guitar clatter and feedback sputter. They continue their hammer down, space-truckin' freakshow til the phased-to-fuck repeating outro rambles on to the very last millimeter of dead wax. Your moneys worth. Scumble-bum statisimos: 100 copies farted into existence and promptly disappeared. Hand pasted sleeves featuring my favorite Bay Area metal head (and my favorite kitten wall calendar as well). Includes an insert of liner notes that borders on being its own 'zine. Surprised it doesn't require extra postage. People will be looking for this thing in 20 years at no avail. Instead they'll be sifting through the refuse bins eyeing Fresh & Onlys markdowns and finding doodly-squat. A sad future to behold. (RSF)
(self-released // yipunx.angelfire.com)"
Press Solutions:
"Oakland, CA high school jazz combo Yi is back again with 3 new tunes, riveting us with kidney stone complaints that would make an advice nurse cringe, a young punk's struggle to make sense of his life amidst a suffocating barrage of disapproval from the scene and on the flip side, documentation of the fizzling out of brain function while standing in the freezer aisle. Who can really tell what they are going for musically with this one but to our ears it sounds like Cliff Burton auditioning for Artificial Peace (and not making the cut), b/w Groovie Ghoulies covering Harry Pussy. Like I said, who knows? Who cares? 99 copies, black vinyl, white sleeve (PS, 2013)"